Weekend Comeback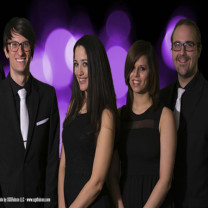 Categories : AC, Cover Bands, Musical Acts, Rock
Release Date: March 11, 2016
Description
Weekend Comeback is a five-piece ensemble that features saxophone and versatile female and male vocals. Their exciting show includes five vocalists, guitar, bass, drums and saxophone
Weekend Comeback delivers a crisp and impressive assortment of cover tunes. The bands repertoire includes songs from the 60s, 70s, 80s, 90s and today.
Weekend Comeback provides a premium variety of pop, rock, country and Motown tunes. Music is pre-programed for each event for the crowd's entertainment in-between sets. Weekend Comeback will provide high-energy and upbeat sets to your event in order to create an engaging, dance-filled environment.