Trick Trick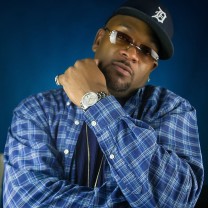 Categories : Embarco Artist, Hip Hop
Release Date: September 22, 2015
Description
A member of Detroit's hip-hop elite, Christian Anthony, better known by his stage name Trick Trick, is an American rap artist and member of the hip-hop group Goon Sqwad.
Trick Trick picked up his love for music from his mom Michelle "Sassy" Mathis who used to sing back up for jazz/blues legend Alberta Adams and dad a local DJ.  He later picked up musicianship as well, playing the drums and other instruments in church.
He was nicknamed Trick at an early age because of his street ploys.  He ended up the product of a broken home, his father left while he was still a teenage.  Consequently, he turned to a street gang for solace, and it landed him in prison with a 1 to 20 year sentence.  As an adult, however, he transformed his street dealings into music hustle, and sign his first deal with Click Book Records in 1992.  Trick later changed his name to Trick Trick to play off his friend and label-mate Click Click.
After doing a seven month stint behind bars fighting another charge proven innocent, Trick Trick resuscitated his music career by signing his first major record deal with Motown Records.  While preparing to release his Motown debut, "The People Vs", Trick joined fellow Detroit native Eminem on his Anger Management Tour.  Eminem appeared twice on The People Vs producing and raping on the album's first single "Welcome to Detroit", catapulting him to international stardom.
Since then, Trick Trick has secured his place in the entertainment industry.  Scoring various independent films, directing short films as well as over 15 music videos.  Working side by side with the music industries elite such as Eminem, Kid Rock, Dr. Dre, Ice Cube, Miley Cyrus, Snoop Dogg and Xzibit, just to name a few.  Trick Trick produces, engineers and mixes all of his own sessions out of his own "Studio 1" in Livonia, MI with his partner Tommy Hoffman.